Quick n' easy to make Raw Vegan Caramel Apples that can be made in less th
an 15 minutes. Perfect for kids and allergy friendly ;)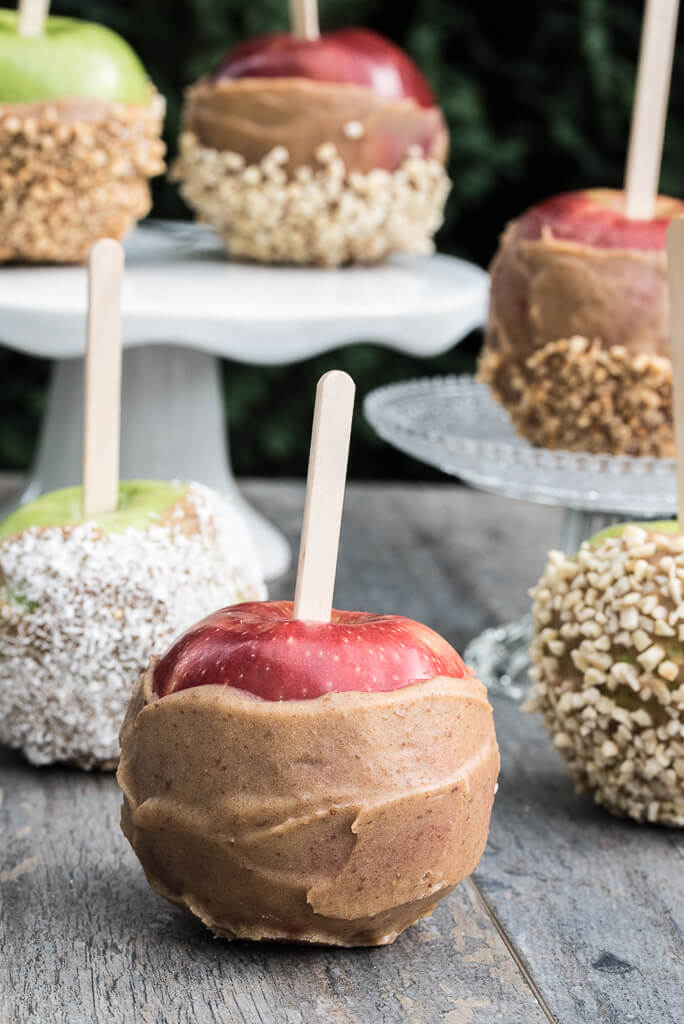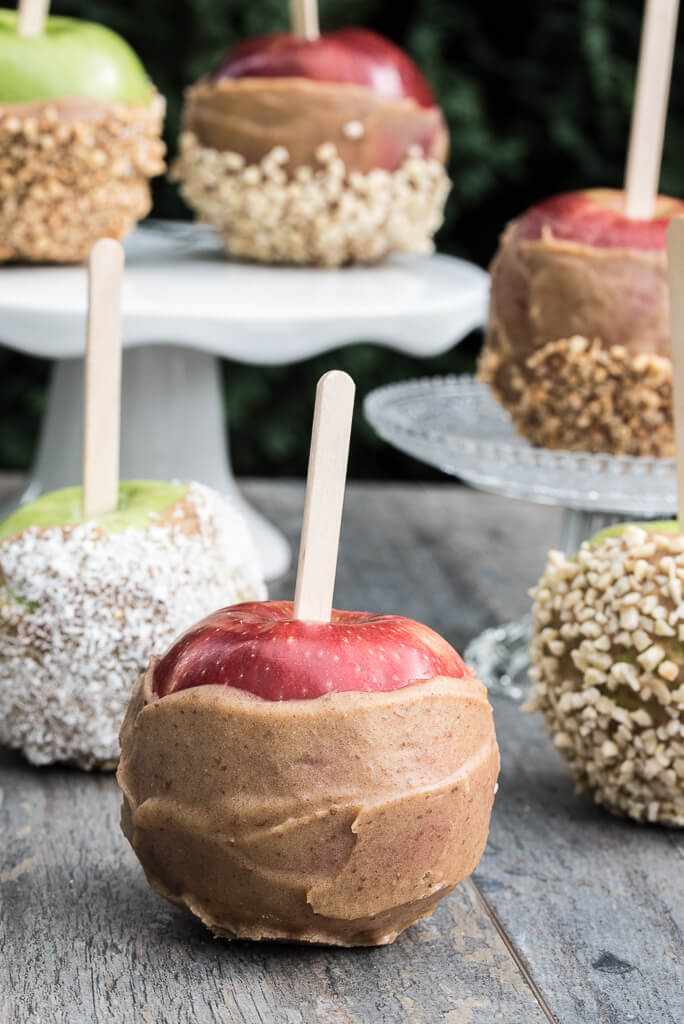 Halloween wouldn't quite be the same without some delicious caramel apples...or better yet some VEGAN caramel apples ;)
Oh wait, these are actually:
Raw Vegan Caramel Apples

Gluten-free

take less than 10 minutes to make

a kid-friendly activity and snack

sooooooooo good! No lies!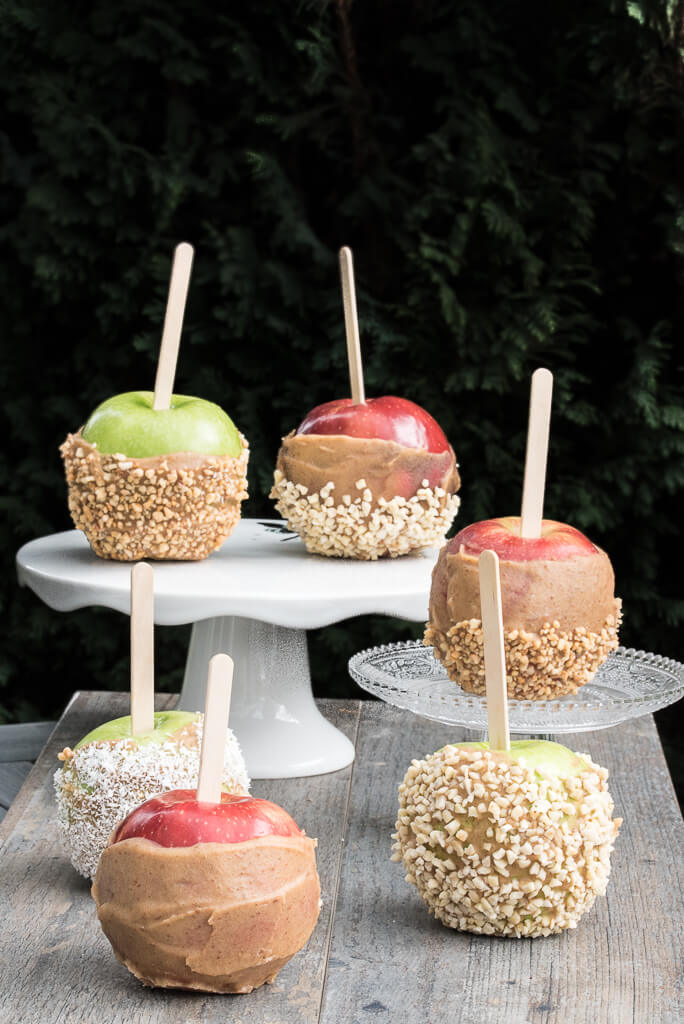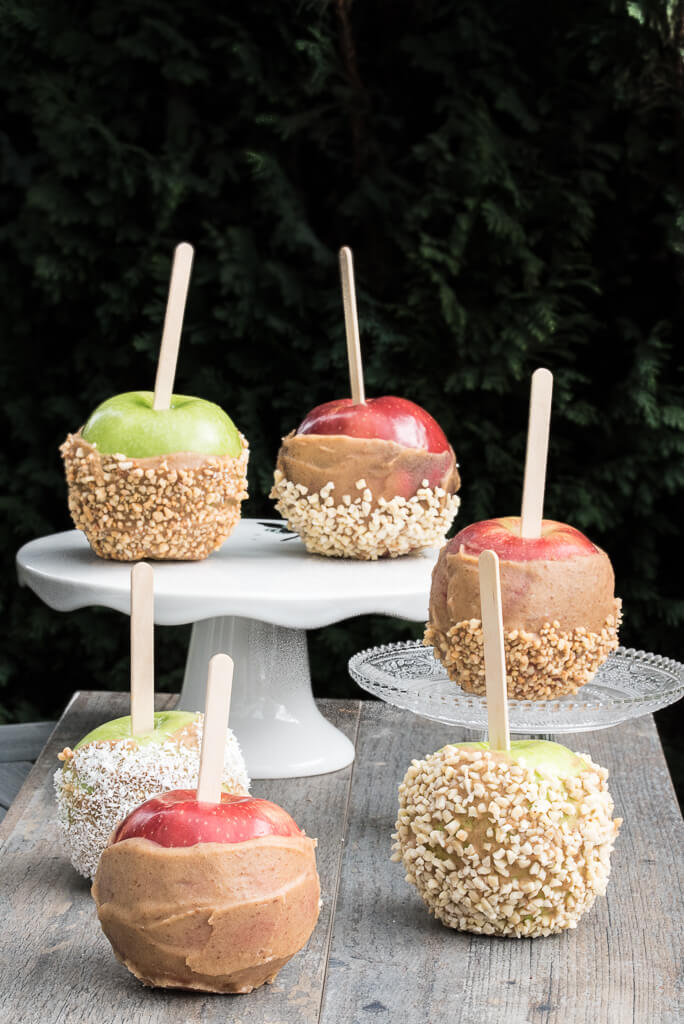 I don't mean to brag....but I will. These vegan caramel apples are basically perfection. They aren't as messy to make as regular caramel apples and you don't have to worry about heating or burning caramel in the process.
All you really need are a couple of things: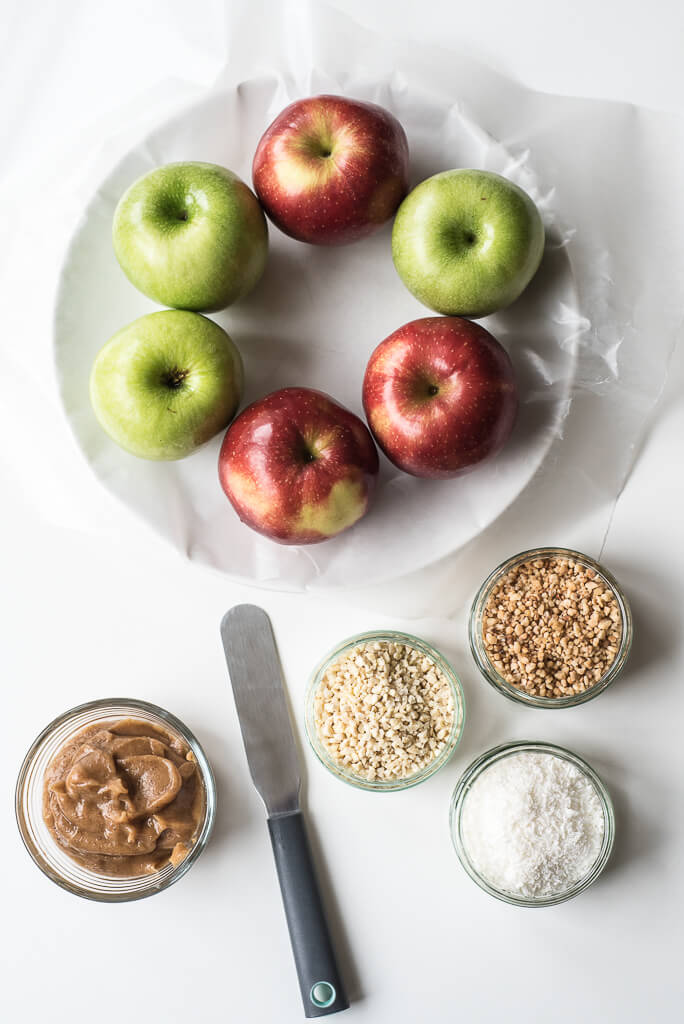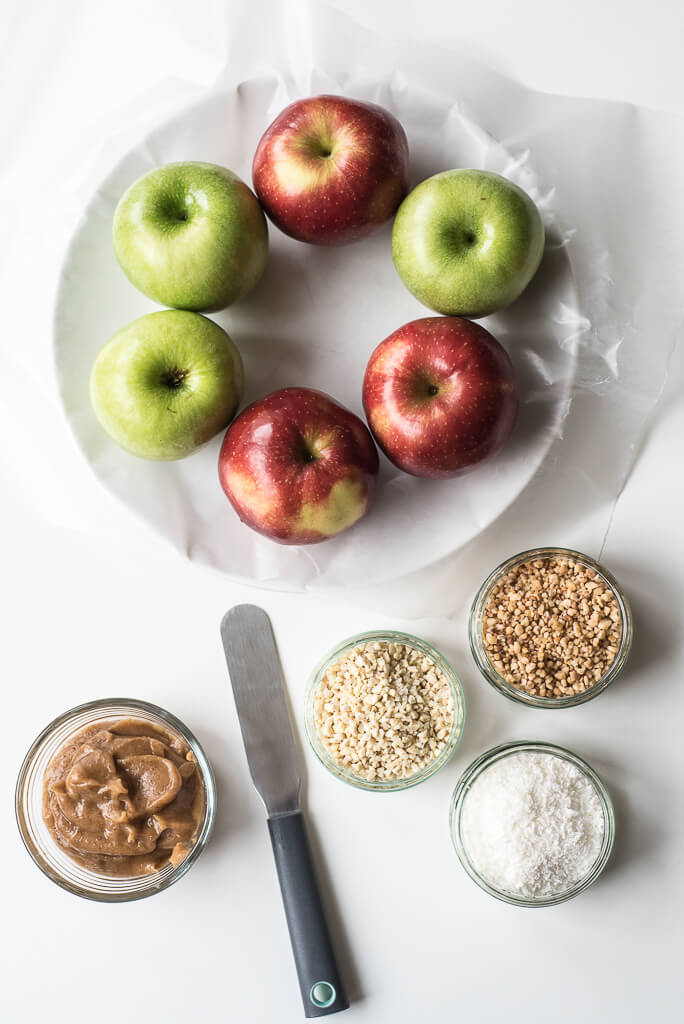 Some apples, caramel dip, popsicle sticks (that somehow didn't manage to make it onto the picture) and toppings. I used chopped almonds, hazelnuts, and coconut flakes.
I usually don't see coconut flakes as a caramel apple toppings but I have a coconut fiend in my household that eats coconut flakes like a bag a chips. He's about 3'3'' , has a devilish smile, and doesn't like listening to what I have to say. If you see him, tell him I want my coconut back!
The caramel dip I used to make these caramel apples is ALMOST the same as my Healthy Caramel Dip expect that I added an extra 1 tablespoon of coconut oil. This let's the caramel harden a little bit better without getting really hard because you have the dates that keep it nice and soft.
Again, perfection ;)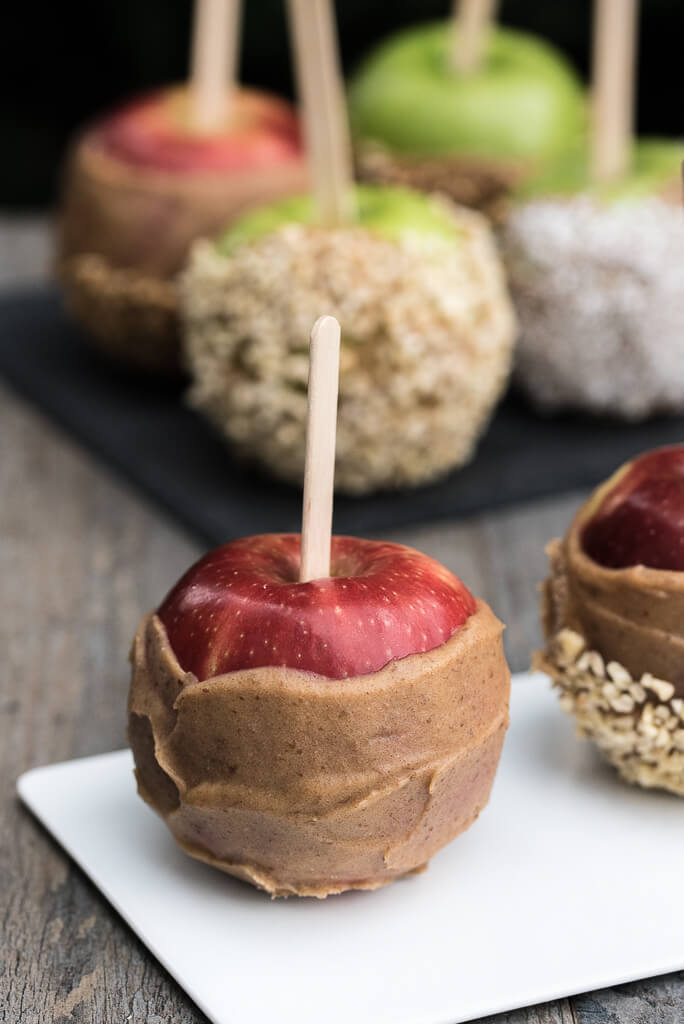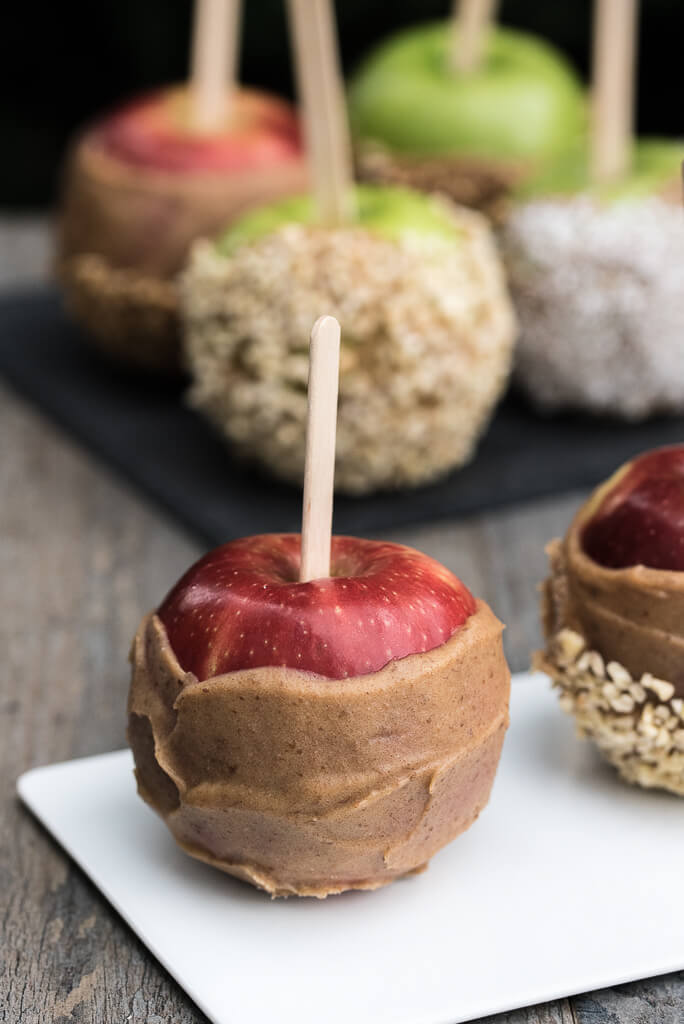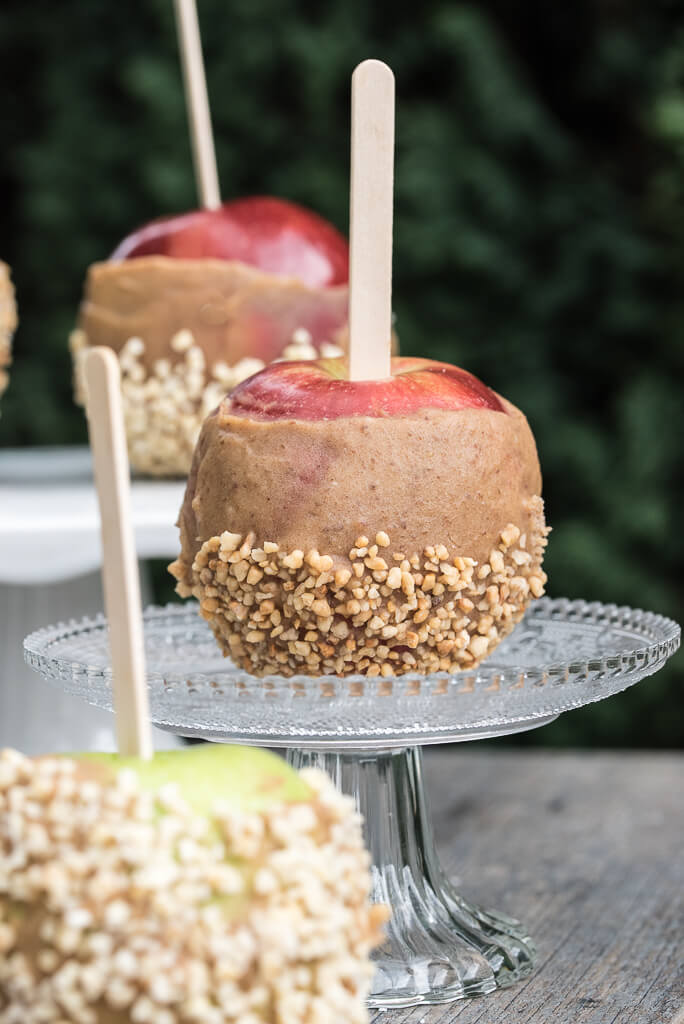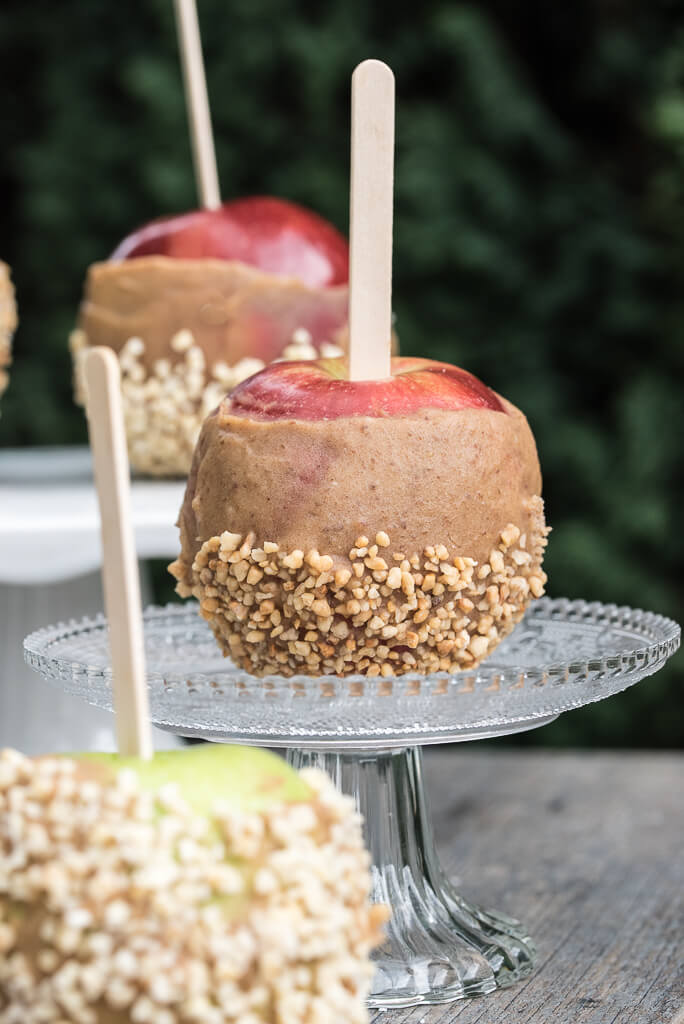 Don't just take my word for it. See for yourself.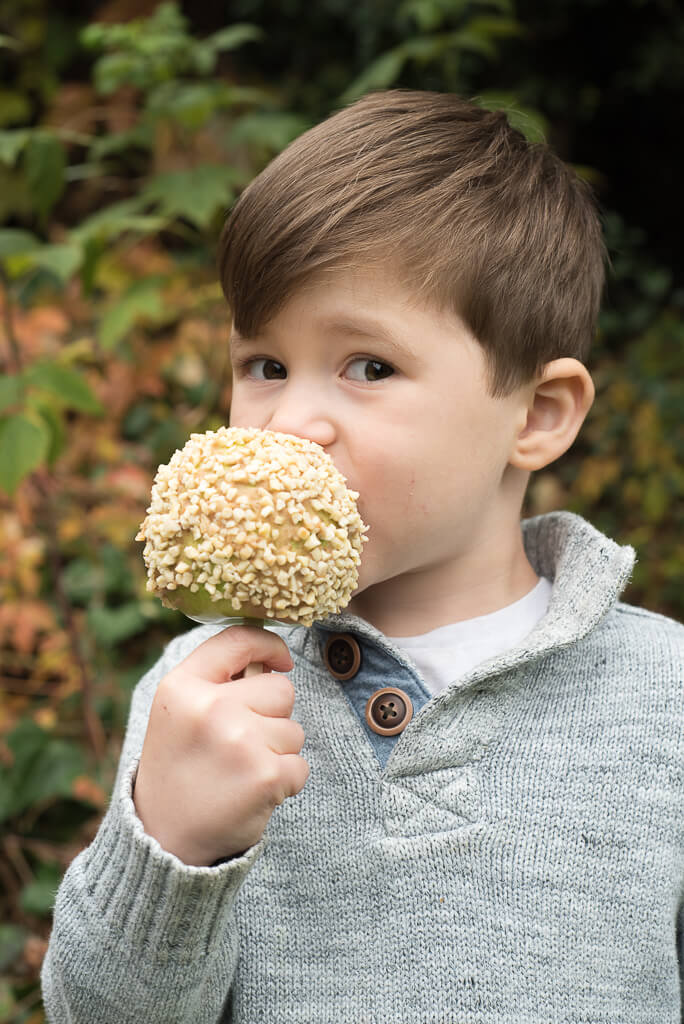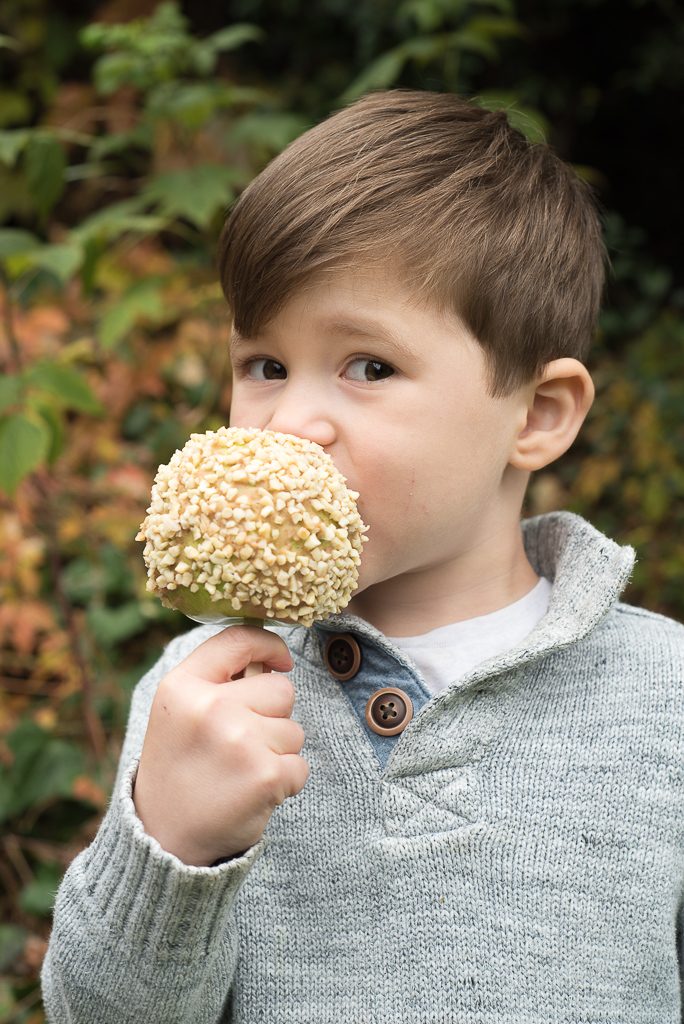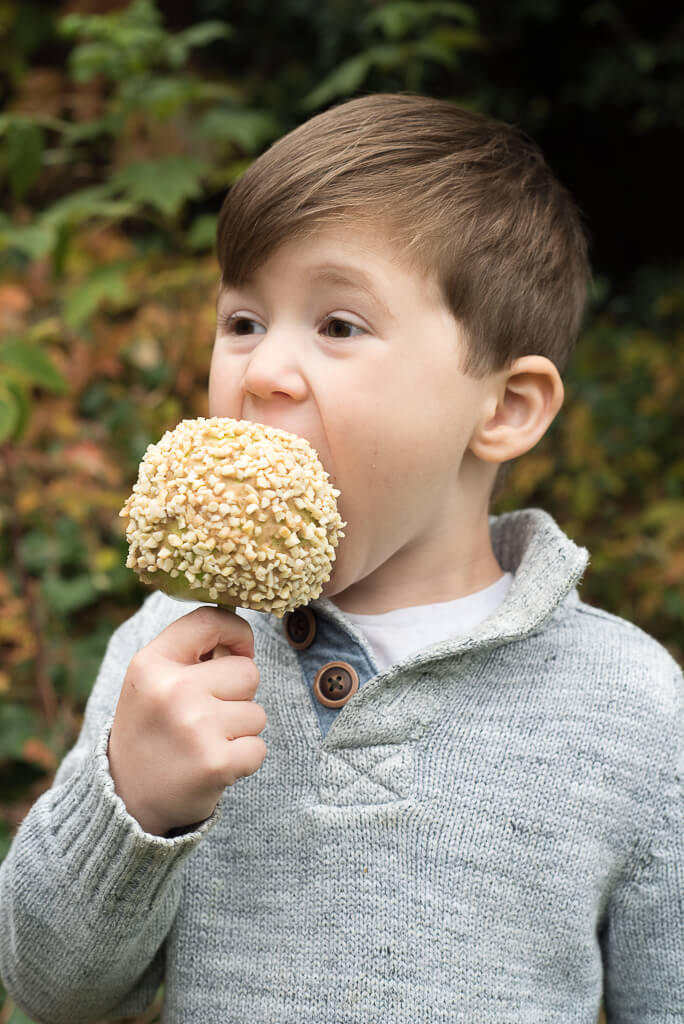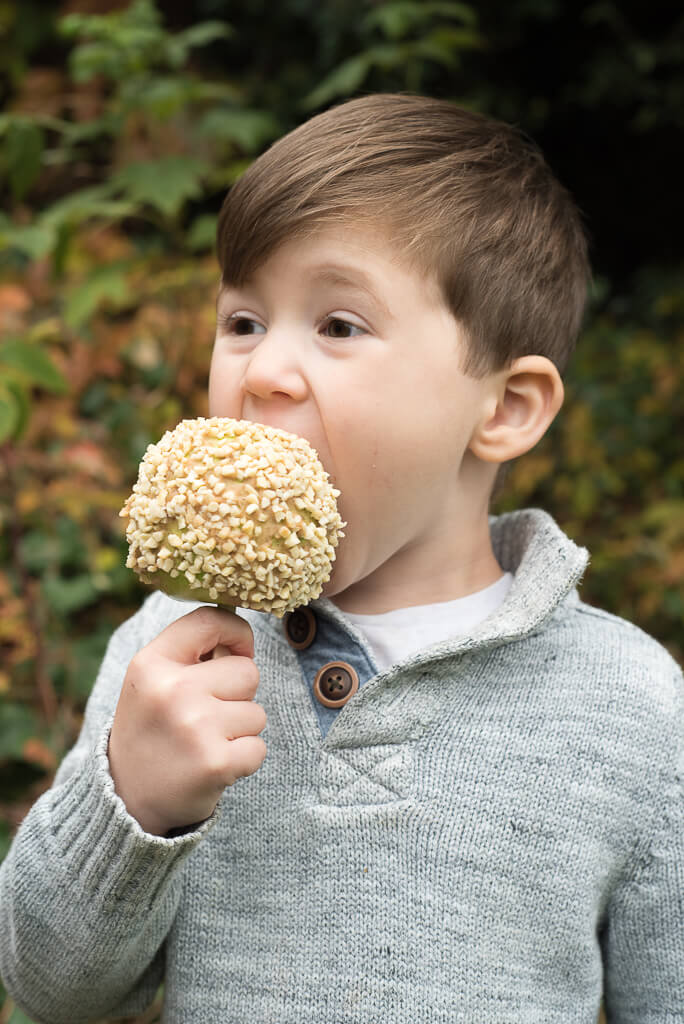 I think I really do need to use smaller apples though ;) The caramel apple is nearly the size of his head!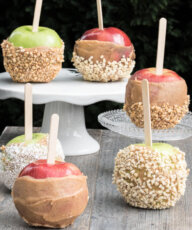 Raw Vegan Caramel Apples
Healthier and easy to make Raw Vegan Caramel Apples that are a perfect kid-friendly activity for Halloween or Autumn!
Makes
6
large Vegan Caramel Apples
Ingredients
6

Apples

of choice

6

Popsicle Sticks

Wax paper
VFR Caramel Dip
4

Medjool Dates

or 8 regular dates, pitted

Vanilla caviar from 1 Vanilla Bean

alternatively use ¼ to ½ teaspoon Vanilla Extract

4

tablespoons

room temperature unsweetened plant based milk of choice (almond, oat, rice, soy, etc.)

pinch

Salt

3

tablespoons

melted Coconut Oil
Toppings
Chopped nuts

I used almonds, hazelnuts, and coconut flakes

Other toppings of choice

sprinkles, dried fruit, chocolate chips, vegan mini marshmallows , cookie pieces, crushed pretzels, chocolate drizzle, etc.
Instructions
Wash apples of choice and rub dry. Remove the apple stems and push popsicle stick into the top end of the apple (where the stem used to be).

Place a sheet of wax paper on a large plate or tray large enough for each apple to sit without touching another apple.

Prepare the caramel dip by placing dates, vanilla, milk, salt, and melted coconut oil in a food processor or high-powered blender. Blend until smooth, scraping down the sides when needed.

Spread the caramel over an apple using a small

frosting knife

. Dip or pat your topping of choice onto the caramel apple. Set the finished apple on the plate covered with wax paper. Repeat with all apples, then place them in the fridge for at least 10 minutes. The longer you leave the apples in the fridge the more time it will allow the caramel to slightly harden and gain a caramel like consistency.

Store apples in the fridge and eat within 5 days.
While we are in a Halloween/Autumn spirit let's try out some more recipes perfect for this time of year ;)