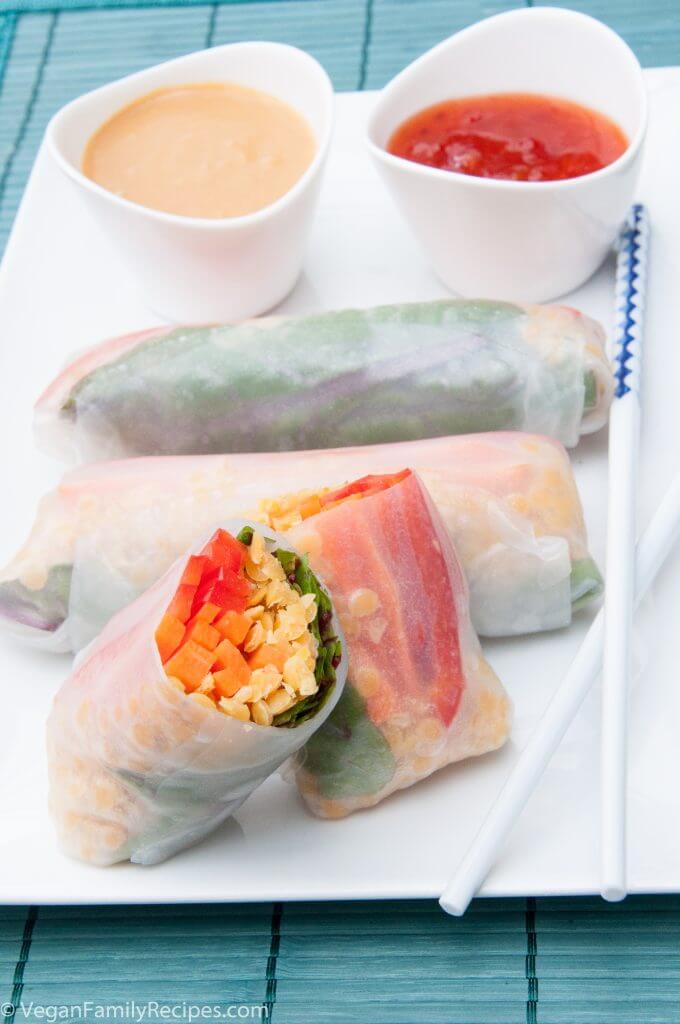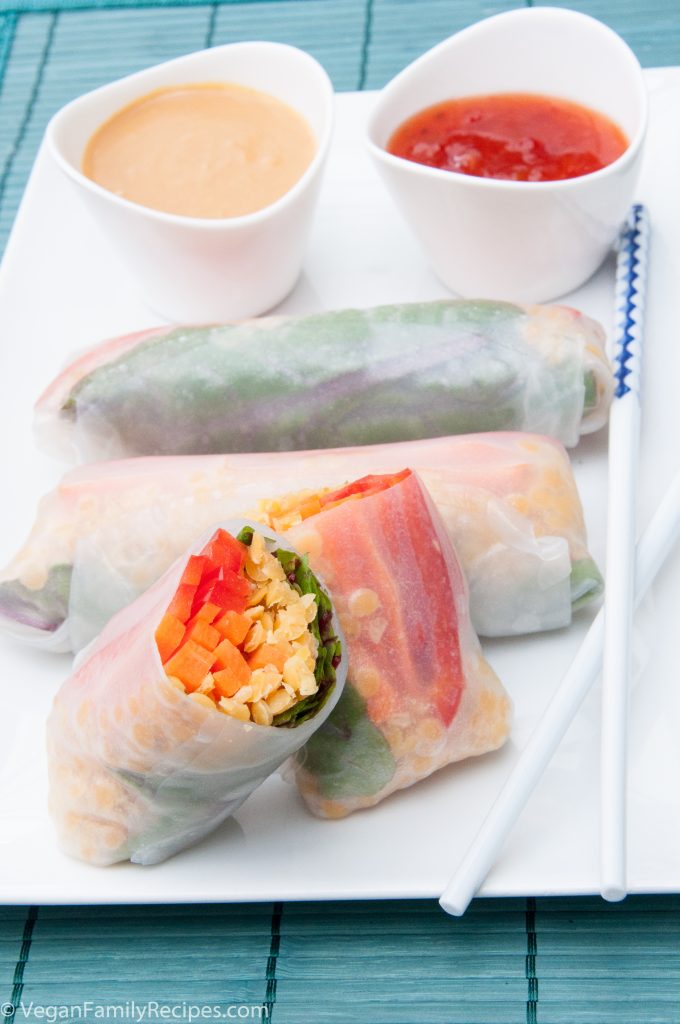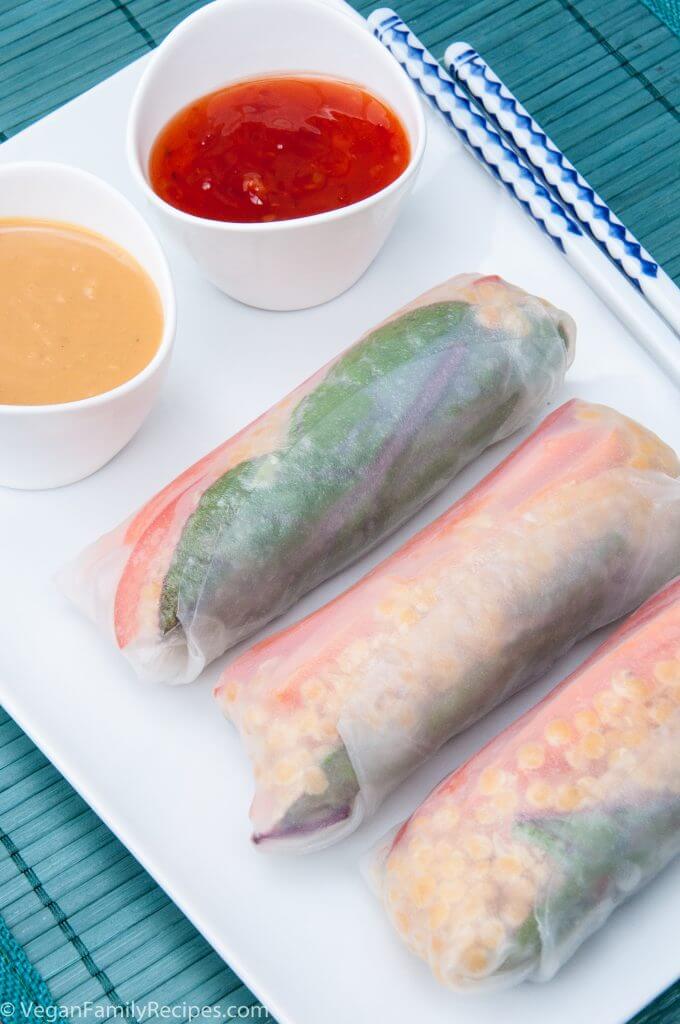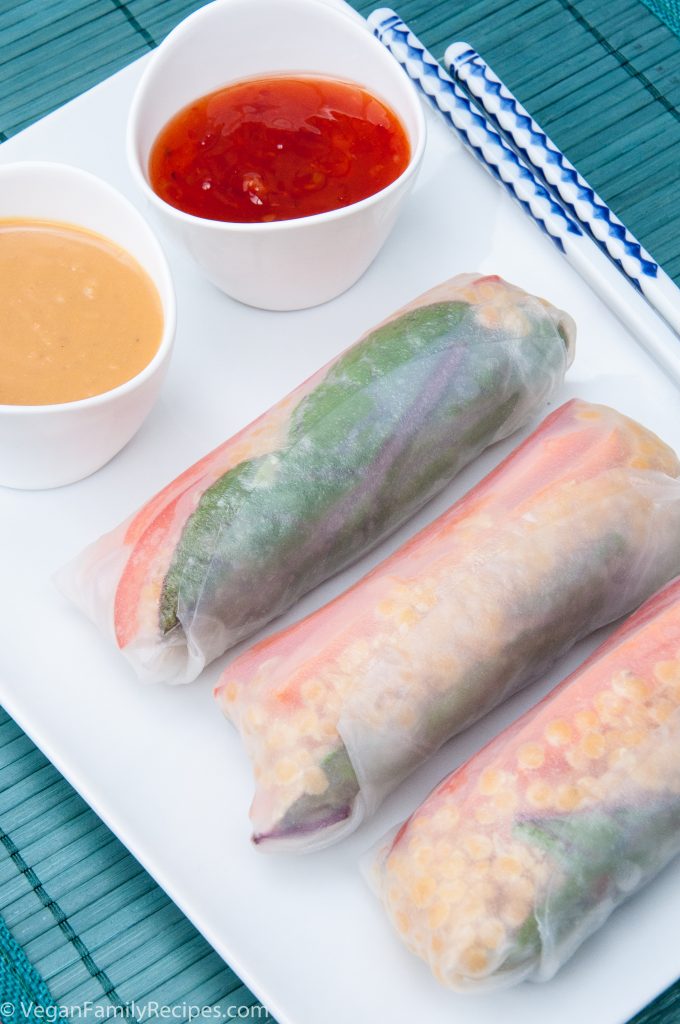 Several months back Hubbs brought home a pack of rice paper rolls. It was completely random and I just thought, "When am I ever going to use these?". I put them on the lower rack of my pantry and forgot about them...
Then, all over Pinterest, I kept seeing all these rice paper roll recipes. Seriously, EVERYWHERE! So I figured that if that many people are making these sommer rolls then obviously it must taste decent, right? I decided to give it a whirl.
It definitely takes a couple of tries to figure out what kind of ingredients work well inside and how to roll the rice paper without tearing it. The good thing about these is that even if your rolling skills aren't perfect you can still eat them! Now that would be a horrible invention...rice paper that only tastes OK if rolled perfectly. Thank goodness it's not like that!
Being vegan you can't just ignore the fact that you still need to get enough iron and protein. That's why red lentils are one of my favorite ingredients. These little suckers are packed with lots of healthy iron, protein, and a ton of fiber. You know...that stuff that keeps things running smoothly ;)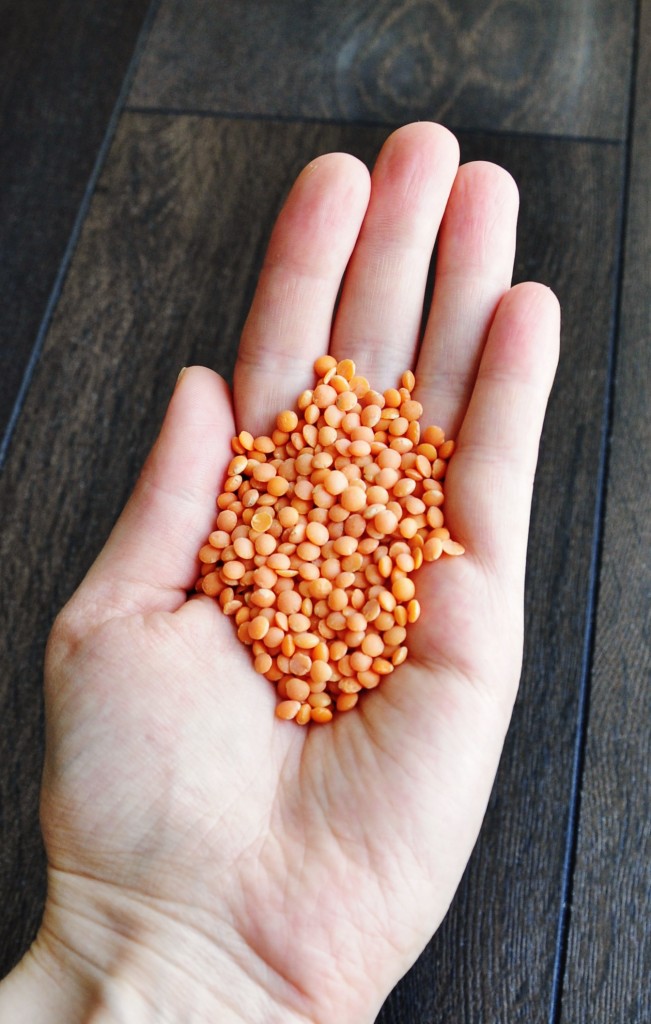 Plus red lentils are one of the quickest lentils to cook. Done in 7 minutes. Bam!
Oh right, back to these lentil summer rolls.  I doubt the Vietnamese put lentils into their summer rolls. Correct me if I'm wrong...
Either way, the Vietnamese are brilliant considering these are the ultimate food trifecta. Healthy, easy to make, and incredibly delicious! 
All you'll need to do is gather your ingredients. You don't want to use anything too big or bulky as the rice paper will tear fairly easily. I used lentils, carrots, bell peppers, and lettuce for these.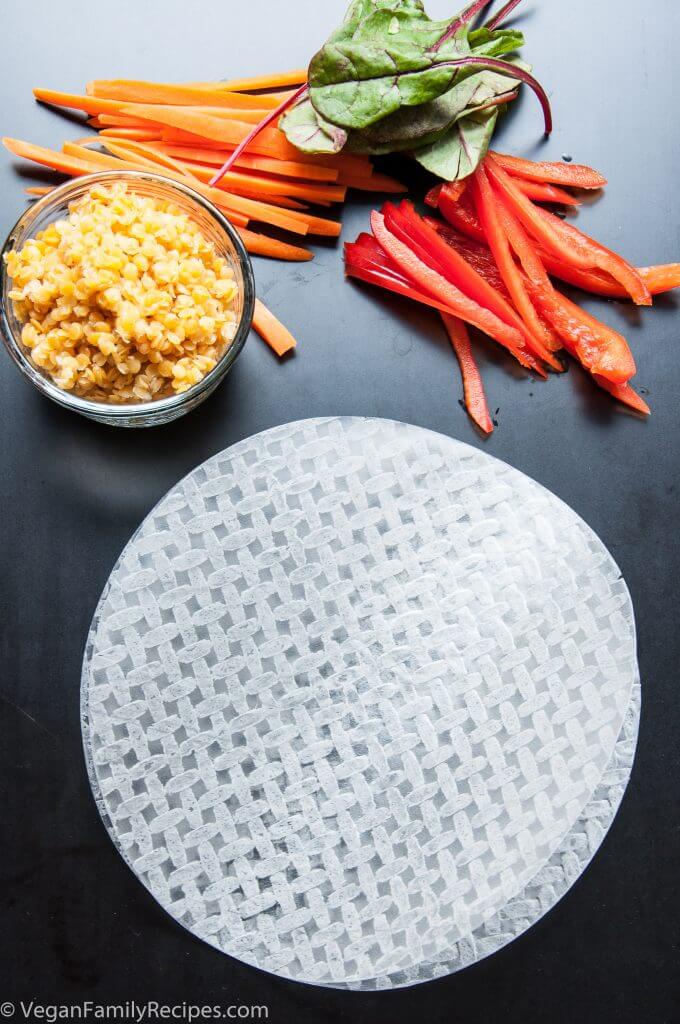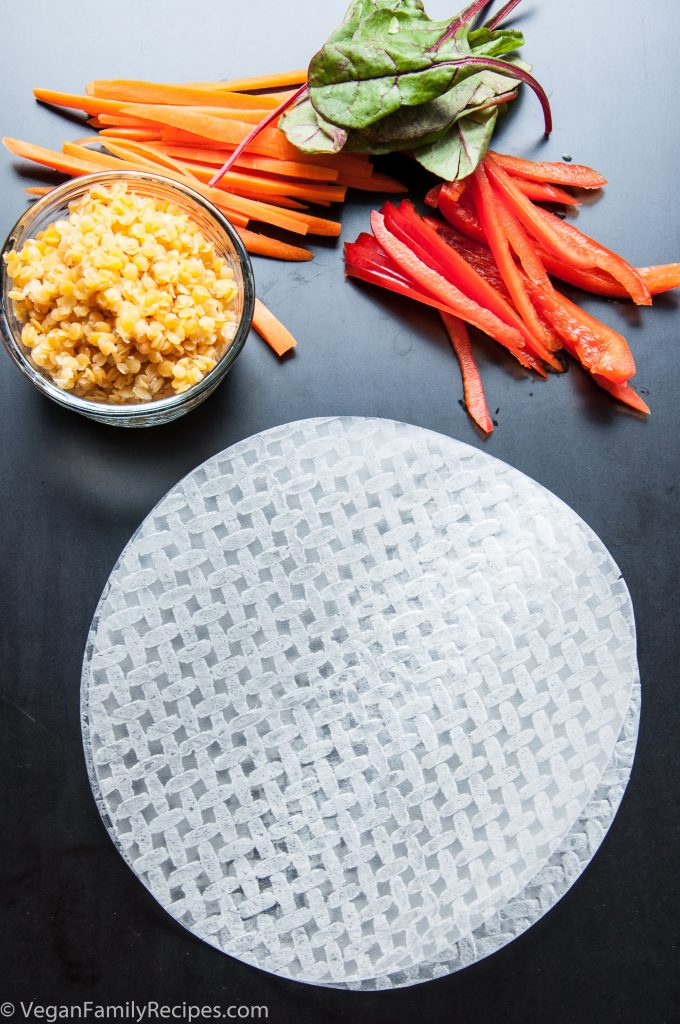 Soak your rice paper in some water. Depending on the temperature of your water it will take anywhere from 10-30 seconds.
Then, add all the ingredients to the bottom edge of the rice paper circle. *Note that photographing rice paper is nearly impossible. It's see-through so no matter on what kind of surface you place it, you just can't...
Then roll it all up!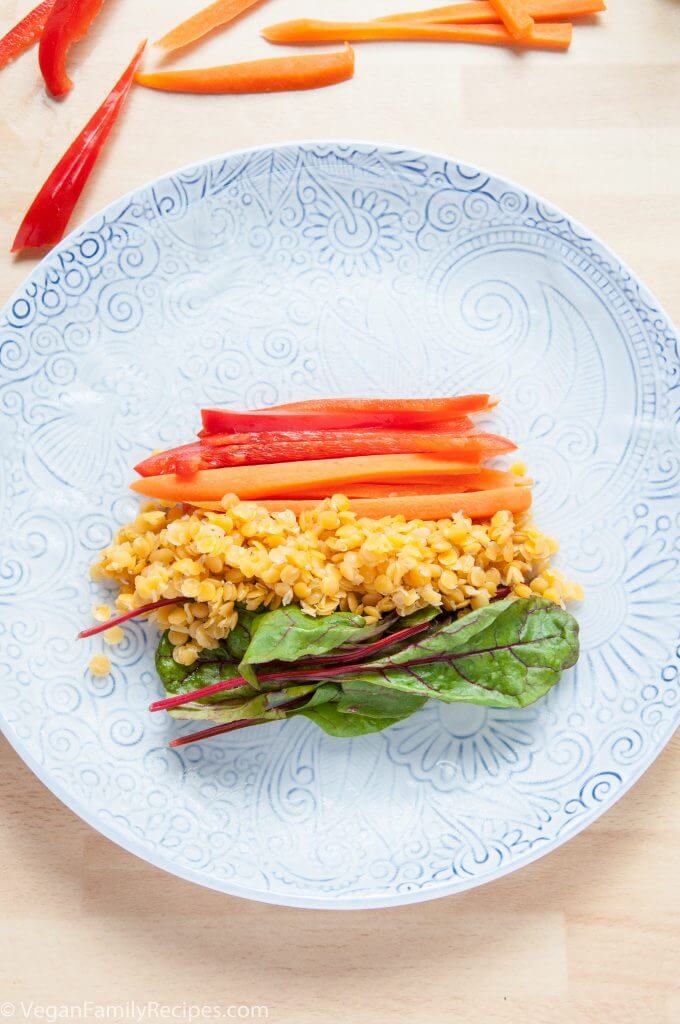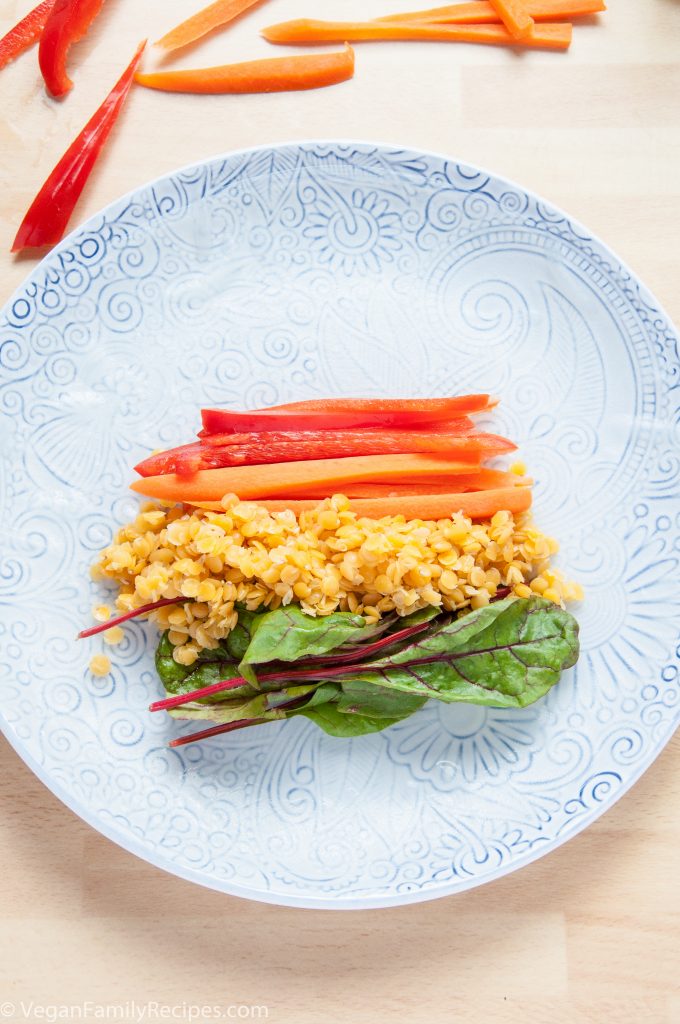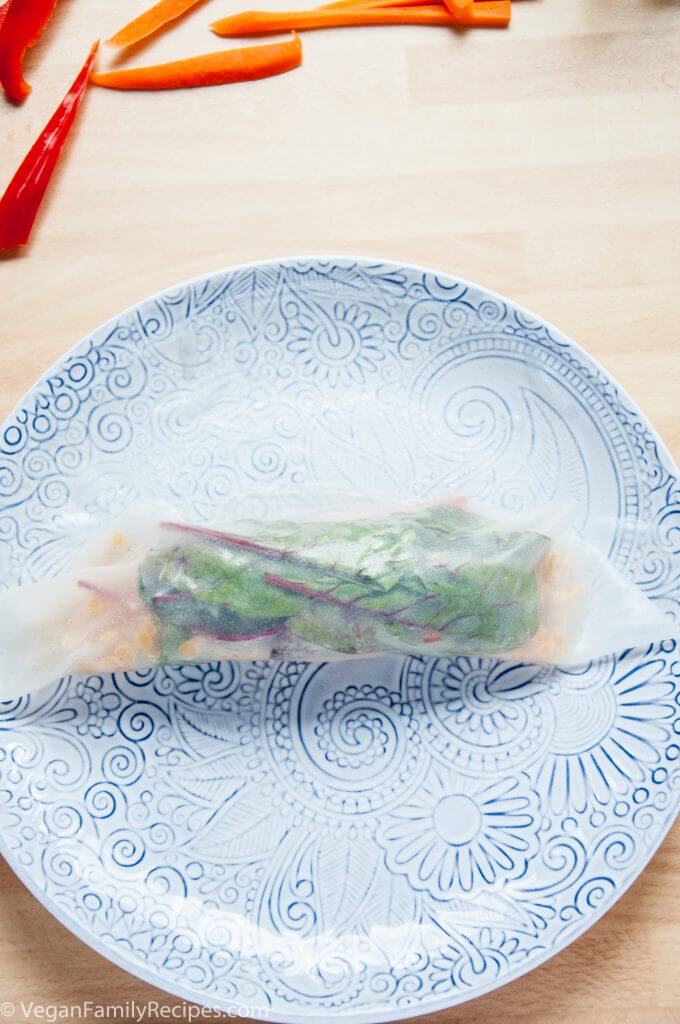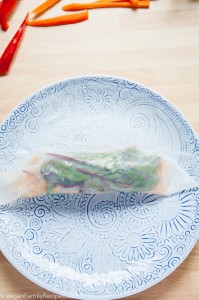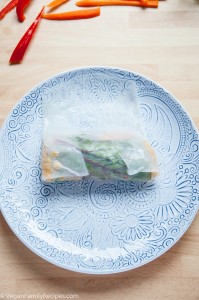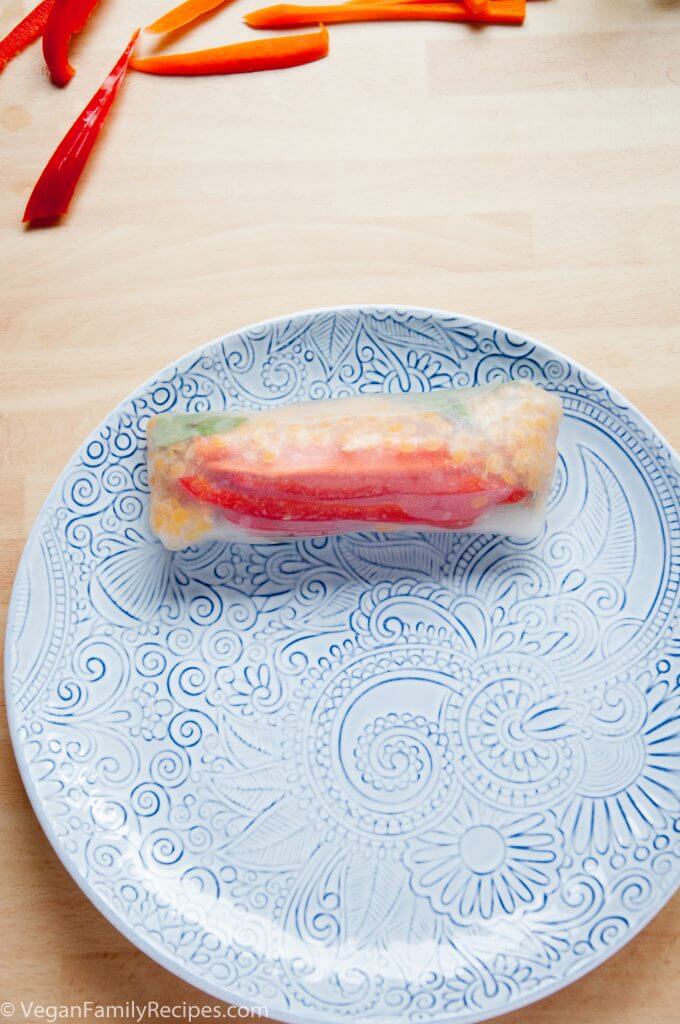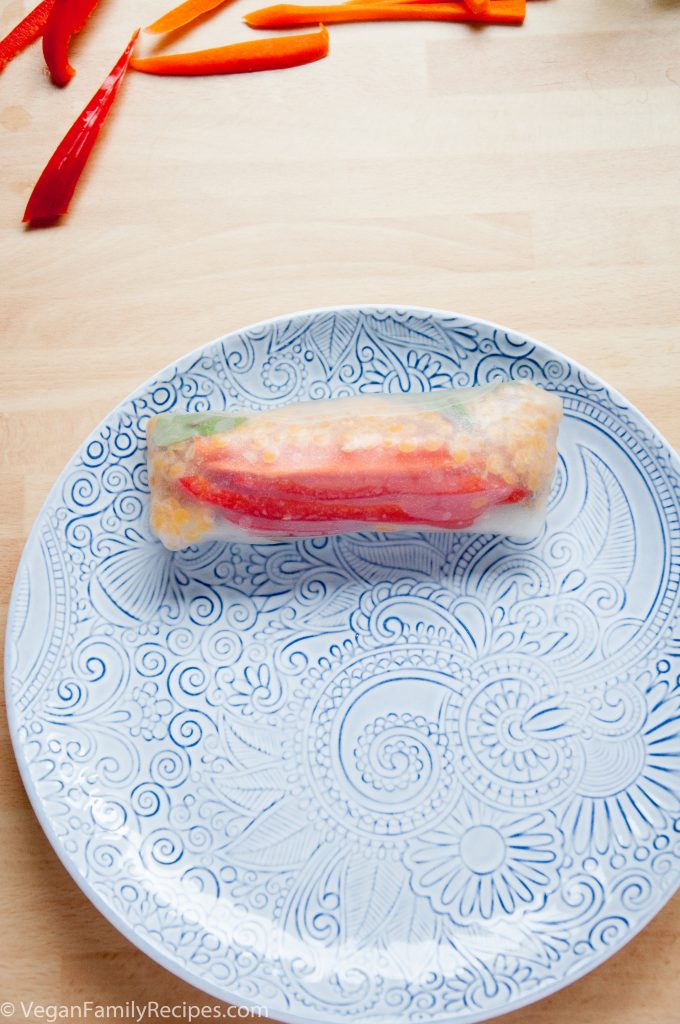 The only thing that I think scares off most people is not knowing how to roll summer rolls. It's basically the same as rolling a burrito just a little bit more delicate. Still, frightened? Don't worry...Mama Ness is to your rescue with this super professional looking 'how to roll spring/sommer rolls guide' :D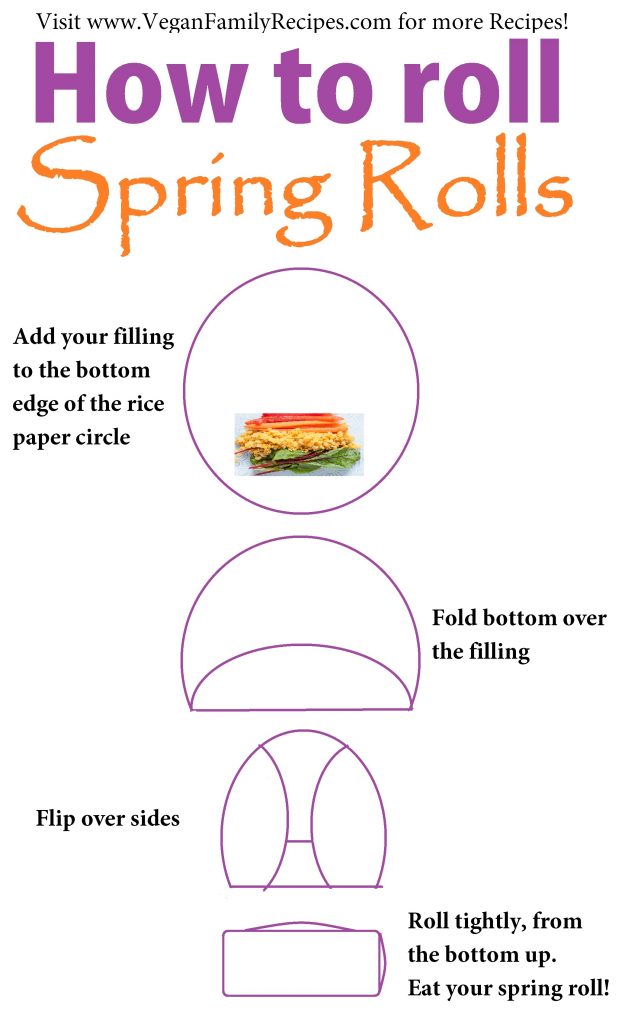 I know you are amazed right now. Ha!
Now that you have that nifty guide there is nothing stopping you from making this. Roll it all up and eat it with your favorite sauces.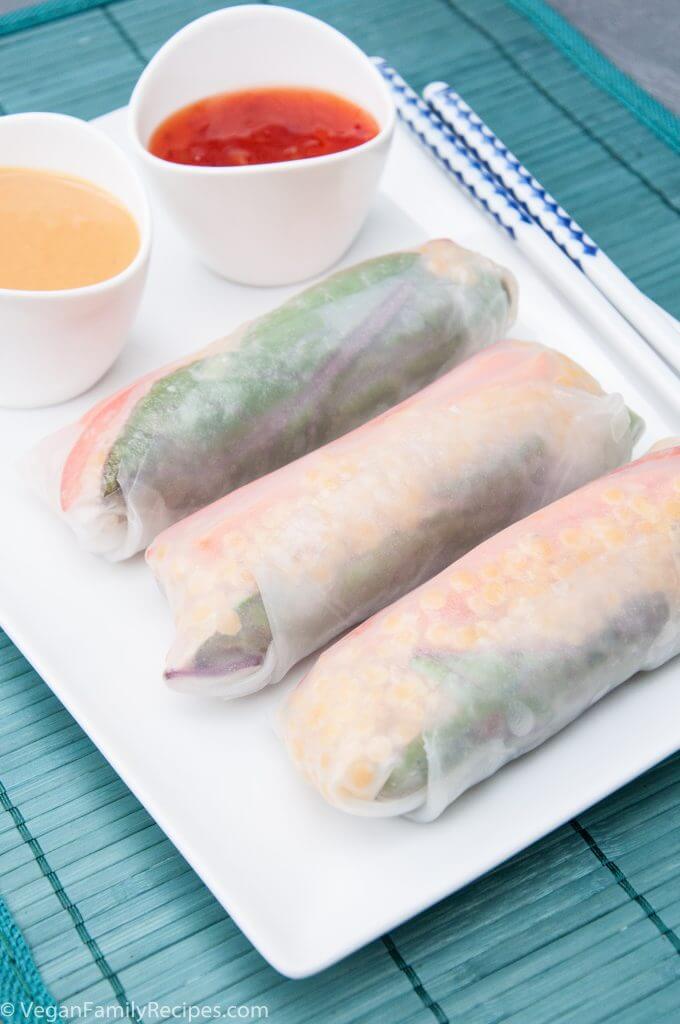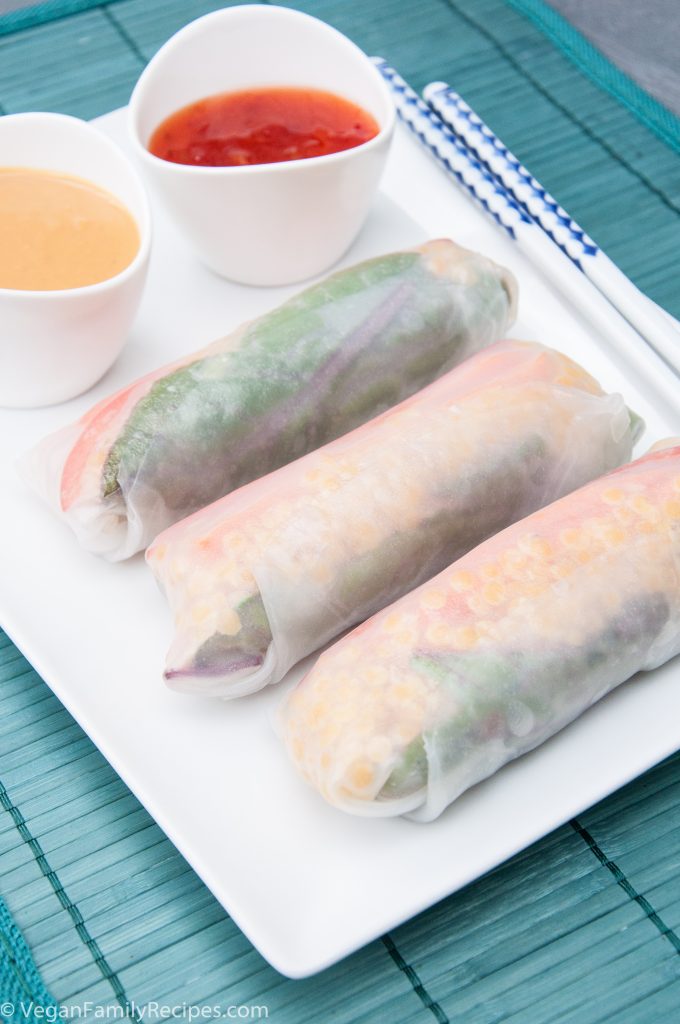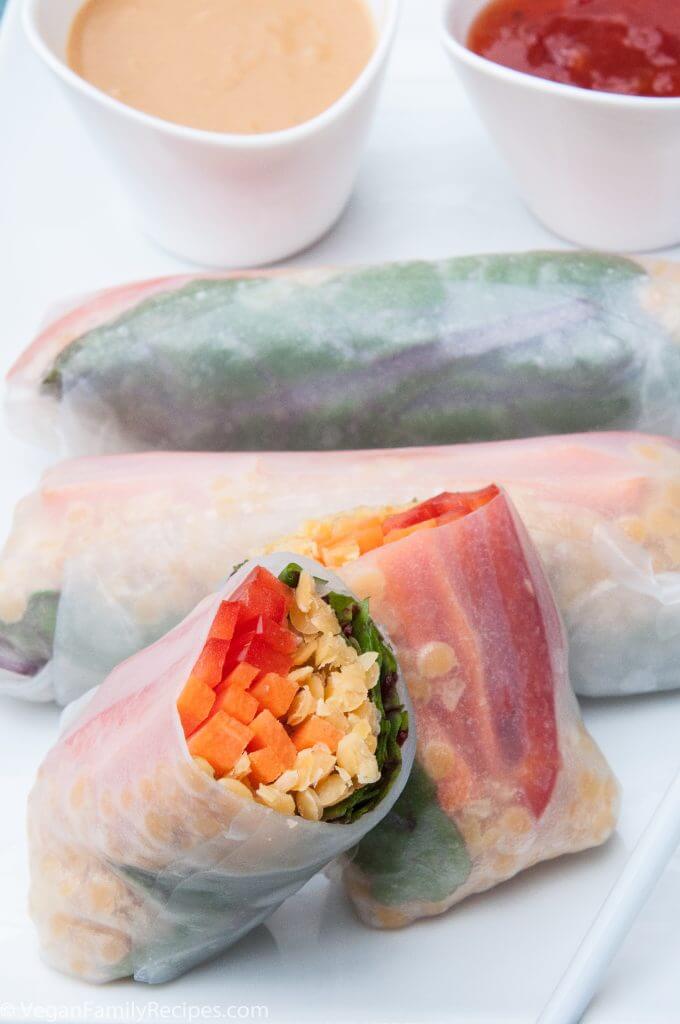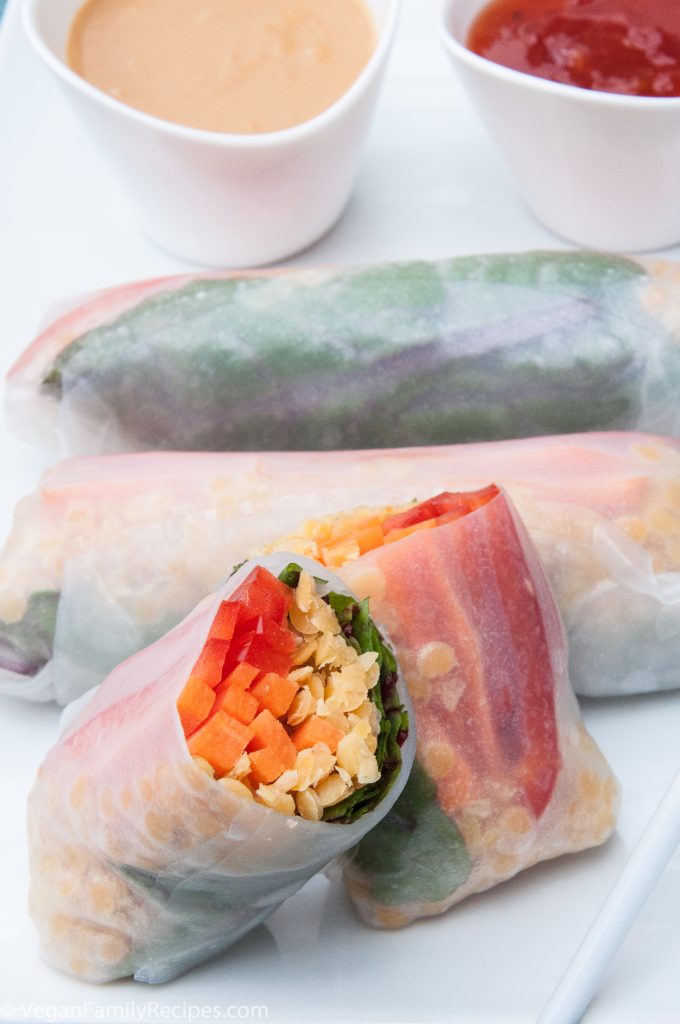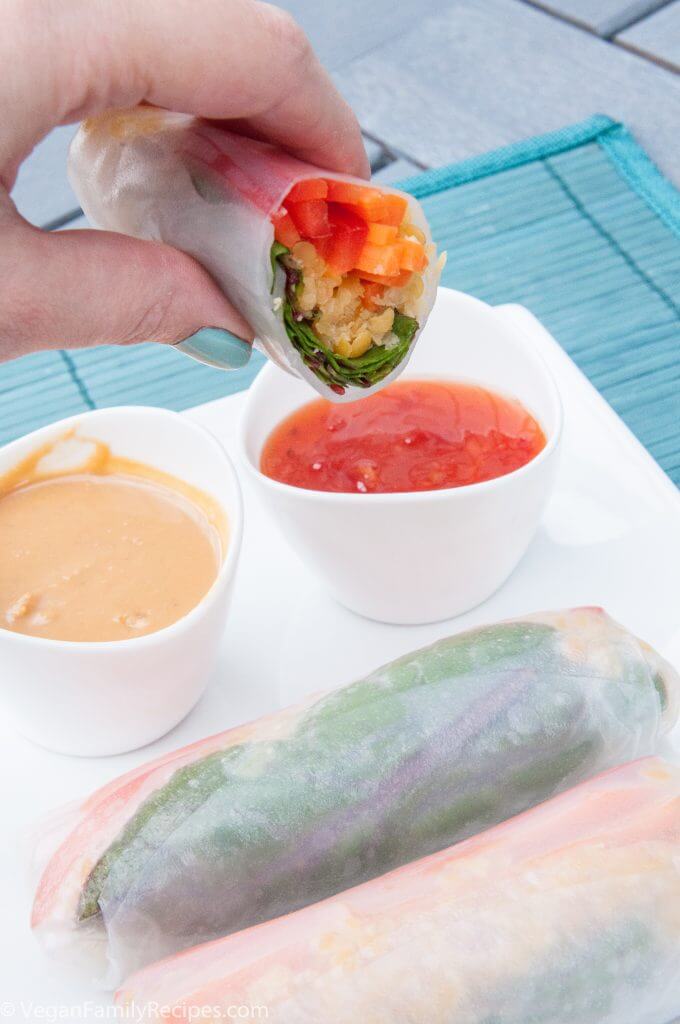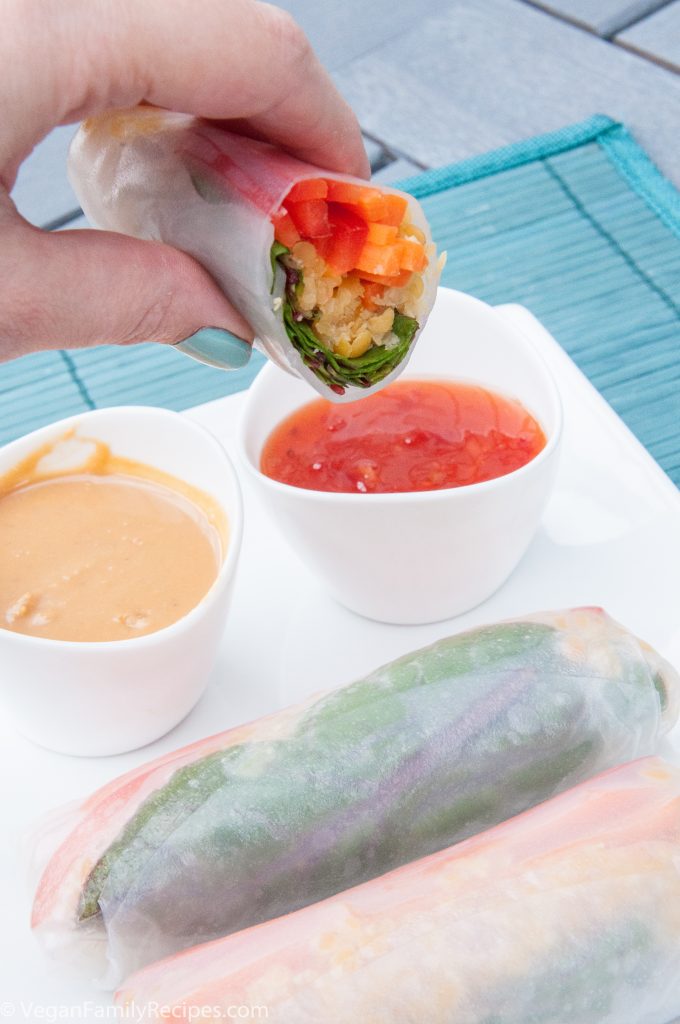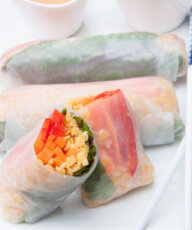 Lentil Summer Rolls
A quick iron-rich Lentil Summer Rolls made with rice paper, red lentils, and fresh vegetables. Perfect for a healthy lunch or appetizer.
Ingredients
5

Rice Papers

or 10 for easier rolling

½

cup

Red Lentils

uncooked, cooked for 7 minutes in boiling water

1

Carrot

julienned

½

of a

Bell Pepper

red, julienned

1

cup

Lettuce

of choice, I used baby chard

Peanut Sauce

or Sriracha Sauce for dipping
Instructions
Soak one rich paper (or 2 on top of each other for easier rolling) with lukewarm water in a shallow dish or plate. Soak for roughly 30 seconds until rice paper becomes slimy. Carefully place on a clean plate or cutting board.

Add roughly 2 heaping tablespoons of red lentils, 5 carrot slices, 5 bell pepper slices, and a small handful of lettuce to the bottom edge of the rice paper circle. Gently but tightly roll up the spring rolls up the way you would a burrito. (Check step by step rolling directions above.) Repeat steps until all ingredients or rice papers are used up.

Serve immediately with your favorite dipping sauces.
Recipe Notes
1) Loosely adapted from Crazy Vegan Kitchen's [Vegan Rice Paper Rolls]2) If you are new to making rice paper rolls then I suggest you use 2 rice papers on top of each other. The rice paper rolls won't break as easily. It's also great if you are making these for kids to double to papers as well. This allows kids to hold on to them easier without them falling apart or tearing.3) There are a couple of different ways to soak your rice paper. The way described above is what I like to do. It takes a bit of experimenting until you find the way that works best for you. Others like to soak their rice paper in hot water for a few seconds. I find that my rice paper tears too easily when done that way.
Here are some other tasty recipes with lentils you might enjoy :)